KOSOVO – 2016 was the year of international breakthrough for the startup sector in Pristina. The capital of the young republic of Kosovo showed the world several examples of their strength.
Since a couple of years, the IT startup sector (or tech sector) of Kosovo is becoming more professional. One of the thriving factors is the Innovation Centre Kosovo (ICK).
The center strengthens new (IT) companies with coaching, advice, a huge network, training, and of course a space to work.
ICK executive director Uranik Begu sees some positive signs in terms of improving overall general condition on starting up and doing business in Kosovo. "We have begun creating our stories. Some puzzle pieces could contribute to an overall positive image of Kosovo. The successes in 2016 came as a result of that very important link that the Kosovo startup scene has with Kosovars abroad and students that have studied abroad. Now these people see an opportunity to come back to Kosovo and start a business here."
But Begu has also a number of concerns: "Startups in Kosovo still face many difficulties in terms of absence of direct support and access to finance."
Desktop 3d printer made in Kosovo
One of the ICK incubators surprised this year friend and foe with a desktop 3d printer.
After working some years of developing, the product was launched in London. The Formon Core is a small 3D printer, which is affordable for everyone, and easy to use. "Even a kid can handle it", according to Formon founder Rron Cena. "It is comparable with an inkjet printer, and it connects with WiFi or via usb. The Formon core is not a machine, it's just office equipment, that you can also use at home for your hobbies." On the picture (from the facebookpage of Formon), you see the team working on the printer.
Another relatively new company (and former ICK incubator) from Pristina became international news after a 2 million dollar venture capital investment. This investment might be the biggest in the whole region for an IT startup.
Gjirafa.com is a digital platform for Albanian speaking users in Kosovo, Albania and Macedonia.
CEO of Gjirafa, Mergim Cahani, says that most people in the region use internet for news, Facebook, Skype, Viber, and entertainment. "Is internet only for these five things? I don't think so. Internet goes way beyond, but it is not being serviced to them. I think that is the right thing to do."
When we interviewed him in February, he came with the promise that he would launch an 'Albanian Amazon.com'. And we have to say: he did. From now on it's possible to order popular electronic articles online, and receive them within three days.
Kickstarter superstar
Another great achievement is the role of Solaborate. This company, founded by an American from Kosovo, came with 'Hello'.
This solution for a better and cheaper conference call system, became a hit on Kickstarter. The website BuiltInLA even called founder Labinot Bytyqi a 'Kickstarter superstar'.
The company Solaborate is both based in the United States and in Kosovo. In the capital of the young Balkan state, Pristina, are dozens of employees.
For two hundred dollars, everyone can purchase a sophisticated video device that makes video conference easier. Personally, we are looking forward to use the Hello in our own house. While working at the office, we are in the possibility to see the kids playing at home.
'These companies will attract investors from abroad'
ICK director Begu expects more successes in the near future, but sees a lot of things that need to be changed in his country.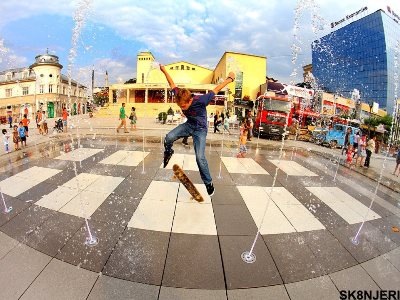 "I believe the trend of people wanting to start a business in Kosovo will increase, partly because the global demand for services is increasing. But unless we don't change our policies, create incentives for startups, and invest heavily on our educational system at least through trainings in short term, we will not see a dramatic change. But, there is potential and we must seize it. These companies like Formon, Solaborate, and Gjirafa will inspire other companies from Kosovo, and will also attract direct investors from abroad."
Did you like this? Here are other articles that you might like: